Have you ever heard of Antelope Canyon? If you haven't I am sure you have seen the pictures of the beautiful canyons.
Antelope Canyon is two separate, scenic slot canyons: Upper Antelope Canyon or "The Crack"; and Lower Antelope Canyon or "The Corkscrew". It is located on Navajo land east of Page, Arizona.  It is a 5 hour drive from Phoenix AZ.   Its been on my bucket list for years and should be immediately added to your bucket list. I had very high expectations and it absolutely exceeded it!
Read on for my travel guide to Lower Antelope Canyon.
Lower Antelope Canyon Guide- Book early
Exploring this natural wonder is amazing, be aware guided tours are required. There are two authorized tour operators to choose from who will not only bring you to the canyon, but also give you a breadth of information about the history, geology, and culture of the Antelope Canyon area.   

Antelope Canyon tours are very popular and highly recommend booking your tour and then the rest of your time around it.
Lower Antelope Canyon – The Tour
We choose Dixie Ellis' Lower Antelope Canyon Tours and would rate our experience a 10 of 10. The other tour company is Kens Tour.  Our guide let us know that Dixie and Ken are actually siblings.  Their family was granted land many years ago and are the only ones that have the rights to conduct tours.  We asked but didn't get much of an answer to why they split.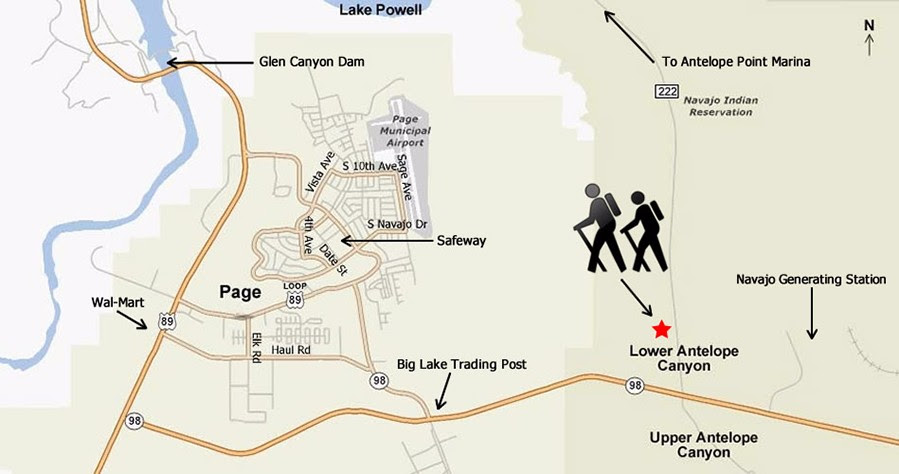 What to expect on the Lower Antelope Canyon Tour
Park in the lot, walk up to the building to check in.  They require you to check in 45 minutes BEFORE the start of your tour.  During check-in they give you a ticket you need to hold onto until they call your tour time (about 5 minutes before your tour).  They place you with a guide and you are quickly on your way. 
The guide starts with some great information about the canyons, how they were formed and the history of how they were discovered.  All of the information was great so pay attention.
Tour length is approximately 1 1/2 miles and just over 1 hour
This is a walking tour

You walk past the entire canyon before you enter through a series of staircases then walk back through on the canyon floor

Stairs: Be prepared to walk up and down many flights of stairs
Crowds: Be prepared for crowds.  Crowds are much worse at the beginning and thin out as you walk further into the slot canyon

Maximum number in each group is 15
They give you a bottle of water at the end of the tour but highly recommend bringing water with you during your tour!
Rules and Regulations of Dixie Ellis' Lower Antelope Canyon Tour
All Guests must remain with their designated tour guide
Climbing on the Canyon walls is not allowed
No selfie sticks, tripods, monopods or go-pros are allowed
NO BACKPACKS OR PURSES are allowed during your tour
Talking pictures on the stairs or posing for pictures on the stairs is NOT allowed
Dress appropriately.  Wear walking shoes and comfortable clothes

Lower Antelope Canyon: Photography
Photographers will be in absolute heaven snapping photos, but the famous light beams are not always visible. Beams occur most often during the summer, with the best views between late March and early October.  Please make your plans accordingly.  Our tour of Lower Antelope Canyon was at 10:30 and the light was amazing.  The light beams are supposed to be more prominent in the Upper Canyon but we did see them in the Lower Antelope Canyon too.
Regardless of when you go, you will be treated to beautiful waves of red rocks and amazing slot canyons.  I cannot imagine beyond disappointed with either tour.  Our tour guide was amazing and helping us get the best pictures possible.  He suggested camera settings, angles, and took lots of group pictures for us too.  We were beyond happy with all the help he provided in helping us get the best pictures possible.
Tip: don't forget to look up.  A few of my favorite shots are from looking into the blue sky. Somehow the sky seems bluer and the walls seem a deeper shade or red & orange.   Every direction you look you will want to capture. I took over 250 pictures in one hour.  Here are my favorite images captured on the tour of Lower Antelope Canyon
My Photography
Lower Antelope Canyon: The finale
The "Seahorse" is one of my favorite images from the day.  It was one of the last pictures I took (thank you to our tour guide) and near the end.  After this one it is only a climb up to get out.
I cannot highly recommend a visit to Lower Antelope Canyon enough.  We are beyond thrilled that we had the opportunity to visit and am now adding Upper Antelope Canyon on my "list". 
For more Arizona adventures check out my posts on:
Or my National Park posts:
Follow Kelly Luvs to keep up to date on my latest posts and adventures!  Thanks for reading and your support!